Exploring a Dynamic Change of Muscle Appearance in VR,Based on Muscle Activity and/or Skeleton Position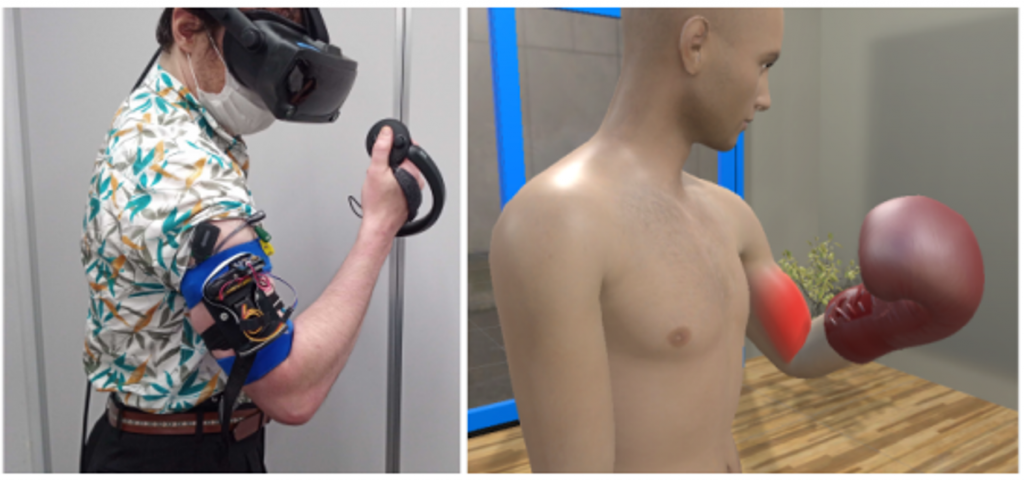 Abstract
We display a virtual avatar changing its biceps appearance to fit the user's biceps contraction. The avatar's biceps changes its size and color based on either: (EMG) the biceps activity (recorded with a electromyography [EMG] sensor); or (ANG) the elbow angle; or (EMG + ANG) the biceps activity and elbow angle. The users also wear an ad hoc haptic device around their biceps to give the illusion of stronger biceps contractions. In the Virtual Environment, the participants (N=10) look at their right biceps and do elbow flexion. They rate EMG, ANG and EMG + ANG (with and without the haptic device) along Body Ownership and Agency. We found that ANG (without the haptic device) was rated noticeably lower on the Agency than EMG and EMG + ANG (both without the haptic device). It is likely better to change the appearance of a muscle using the user's muscle contraction rather than the user's movement when considering the user's muscle ownership and agency. The addition of the ad hoc haptic device appeared to not affect the Sense of Embodiment.
Member
Edouard Ferrand
Adrien Verhulst
Masahiko Inami
Maki Sugimoto
Publications
Edouard Ferrand, Adrien Verhulst, Masahiko Inami, and Maki Sugimoto, Exploring a Dynamic Change of Muscle Appearance in VR,Based on Muscle Activity and/or Skeleton Position, Poster, Proceedings of the Augmented Humans International Conference (AHs '21), pp. 298-300, 2021.2, URL:https://doi.org/10.1145/3458709.3459007
Acknowledgement
This project was supported by JST ERATO Grant Number JPMJER1701, Japan.